Metal spinning transforms workpieces into axially symmetrical objects. This technique is a lower-cost metal forming option and enables unique shapes – such as parabolic nose shapes, hemispherical, and cones – to be created from singular pieces of metal, as opposed to forming seamed pieces that are structurally weaker. Here we will share some insights about the metal spinning process to help you choose the right materials and other considerations for your next project.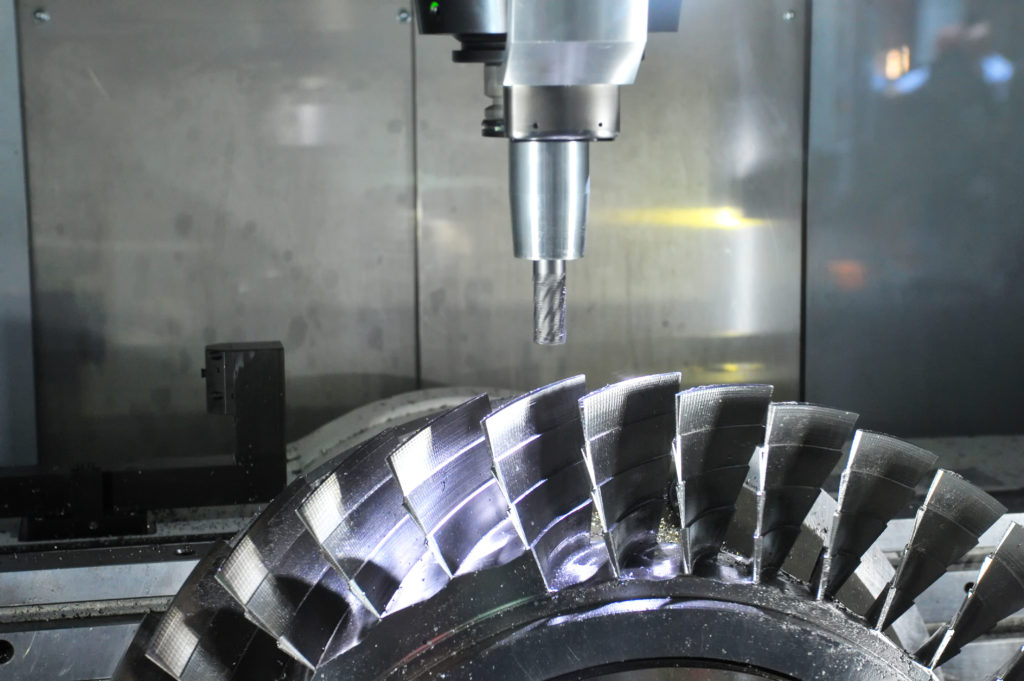 Material Selection
Metal spinning is compatible with a wide range of metal alloys. Each metal offers unique characteristics and performance enhancements. You will need to choose between various base metals and finishes, which will depend on your planned components' tolerance requirements, specifications, and required strength. By working closely with your part fabricator, appropriate material recommendations and selection can be made.
Below are some of the popular and trustworthy options for metal spinning.
Stainless Steel
Stainless steel is easy to work with and possesses many beneficial properties for end applications. On the production side, stainless steel is cost-effective, highly corrosion-resistant, heat-resistant, and responds well to various fabrication techniques involved in metal spinning. At Helander, our team can spin stainless steel tubes and discs to up to 0.250" thick. The resulting products are strong and lightweight, in addition to their durability.
Aluminum
Aluminum is frequently implemented in the aerospace, construction, and transportation industries. Some of its aluminum's most sought-after characteristics include its low price point, lightness, and malleability. This low-density metal can form highly functional parts without weighing down the intricate machinery or equipment with tight weight requirements. It is also known for its corrosion resistance. At Helander, we can fabricate aluminum parts up to 1.50" thick.
Copper
Copper is popular in industrial, commercial, and residential products because of its high degree of functionality and external beauty. It is antimicrobial and effectively withstands corrosion, making it ideal for exterior or high-contact applications. It also possesses excellent heat and electric conductivity. On the production side, copper is very ductile, and manufacturers are able to work with it quickly to produce complex part designs.
Carbon Steel
Carbon steel is incredibly durable. The higher the concentration of carbon within the metal, the stronger and more rigid it becomes. Carbon steel is also cost-effective, making it ideal for applications that require a high strength capacity and a high volume of parts. Painting and coating this metal is a streamlined process, and it is also fully recyclable.
Brass
Composed of copper and zinc, brass offers corrosion resistance, easy workability, and visual appeal. It also conducts heat and electricity well. The addition of other elements makes brass stronger than pure copper. Depending on the specific brass alloy you choose, you are able to add ductility, low-friction characteristics, and malleability to the workpiece.
Hastelloy
Hastelloy is built to withstand high stress and corrosion. It can withstand acid damage from sulfuric acids, hydrochloric acids, and much more. At the same time, the metal is easy to work with because of its thermal stability and resistance to stress.
Titanium
Titanium is stronger than aluminum and offers more tensile strength than stainless steel. Its advantageous characteristics include excellent corrosion resistance, low weight and density, and a high strength-to-weight ratio.
While titanium products come at a higher cost, they are high in demand within the aerospace industry in particular, as the parts are reliable, withstand extreme conditions, and stay within required equipment weight loads.
Inconel
Similarly to Hastelloy, Inconel holds up very well even in extreme conditions. It has excellent resistance to both corrosion and oxidation. The metal can also withstand high heat and pressure conditions. Inconel offers superior strength, making it ideal for harsh industrial environments.
When the right metal is selected, it can be spun with high accuracy to your thickness and specification requirements. Finding the right metal before your first prototype or production run can lower total costs and minimize waste.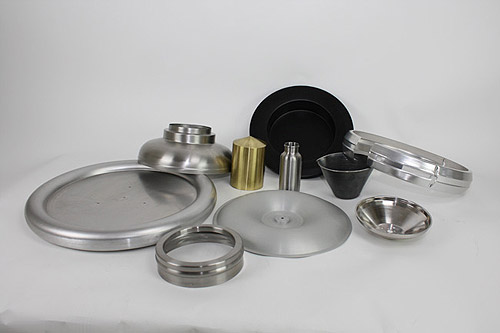 Tooling Cost Considerations
As with workpieces, the tooling used in the metal spinning process can be customized to meet the needs of a particular project. Low-volume productions can save money by implementing tools made from less expensive metals. Hardwood tools, for example, make excellent temporary tools because they are less costly and can effectively handle prototype, low-volume, or soft metal orders. Soft tools made from aluminum and softer steels form permanent tools that are intended only for short production runs. For longer production runs or productions spinning stronger metals, the tools must be hardened.
Metal spinning processes employ mandrels, which are shafts or spindles that undergo the relatively soft forces involved in spinning metal pieces. The workmanship and quality of the mandrel has a significant impact on the accuracy and functionality of resulting parts. 
While metal spinning tooling materials do affect total costs, this metal forming service is still more cost-effective than many other fabrication processes. Manufacturers can produce high-quality mandrels through simple turning and machining. This is much simpler than creating dies, using highly manual alternative processes, or using tools that require a long lead time. Overall, the lower costs of spin forming tooling can reduce startup production costs between 80% and 90%.
Collaboration
A tried-and-true strategy to lower total production costs and controlling product quality to the highest possible extent is to work closely with your metal spinning services provider. Communicating with the manufacturer's team at the start of the project is better able to ensure early success in the prototyping stage and that you choose the right materials for your parts. At Helander, our engineers offer comprehensive advice and services, such as:
Tailored size, radius, and thickness recommendations
Adherence to tight tolerance requirements
A balanced design plan that prioritizes both cost and quality
In-depth design analysis for additional, honest insights
Tolerance Requirements
Tight tolerance requirements will increase the total cost of any metal spinning project. The fabrication process itself tends to make the metal thinner, so it is important to identify how thin the part can be and still perform as expected and according to specifications. We recommend you identify the differing thicknesses required in the various areas of the part; a sidewall, for example, may need a different thickness than corners. Specifying thickness and tolerance levels only at the critical points can make your project more cost-effective.
Metal spinning offers a great deal of flexibility and can handle different thickness requirements.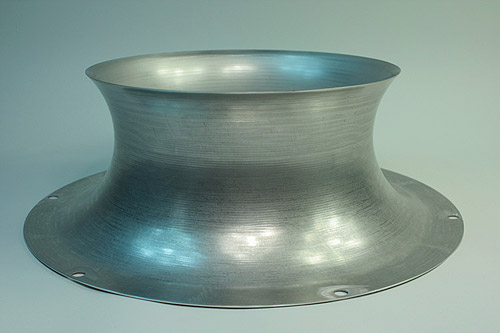 Define the End Goal
It is important to make sure you begin the part fabrication process with a clear focus on the end result. Spin forming produces circular parts – the technique is truly practical when parts will take advantage of its signature circular shapes. It is also key to consider all aspects of the end application – will it need the great corrosion and heat resistance of Inconel, for example, or are aesthetics more important? This is another point that your chosen manufacturer should be able to address – the engineers at Helander are always happy to provide tailored recommendations.
Choosing the Right Partner
It is essential to work with an experienced metal spinner that offers a comprehensive range of services and excellent customer service. When looking for a part fabricator, keep these criteria in mind:
Expertise: Does the manufacturer have quality management certification, industry-specific certifications, and an engineering team with broad expertise?
Stability: If you need a long-term partnership for long-term productions, make sure the company is strong financially, focused on growth, has a low employee turnover rate, and regularly invests in the latest state-of-the-art technology.
Great customer service: Does the company have an excellent track record of delivering on time, answering customer questions promptly, and accurately predicting their ability to handle lead times and volume requirements?
Comprehensive Metal Spinning Design Services At Helander
Helander continues to build on a legacy of over 80 years of metal spinning expertise. Our team includes incredibly talented engineers, material specialists, and manufacturing technologists who will help you choose the right materials and tooling for your project and ensure the success of the parts' production.
We will be able to provide recommendations to maximize both part quality and your cost savings. Contact us today to learn more about our spinning design services.