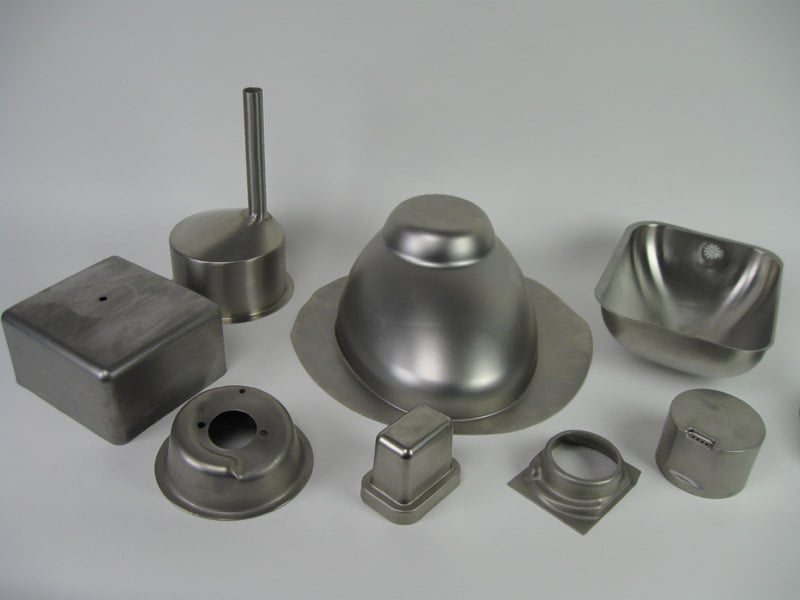 Hydroforming (Sheet Hydroforming) is a specialized deep draw process that uses high-pressure rubber to shape and form metal workpieces. In sheet hydroforming, a metal sheet is placed over a die before highly pressurized water forces it down and makes it conform to the shape of the mold. In tube hydroforming, a preexisting tube is set between two dies, and water pushes the interior of the tube to expand and conform to the new shape. Both processes allow for the seamless forming of new shapes and parts in common metal alloys without welds. Additionally, the hydroforming process is an excellent choice for developing complicated, irregularly-shaped parts or products. At Helander, we specialize in high-quality metal-forming and manufacturing services to create custom parts for a wide range of applications across different industries including Sheet Hydroforming and Metal Spinning.
Materials Used in the Hydroforming Process
Hydroforming is a popular alternative to traditional metal stamping and welding for many different metal substrates. At Helander, we work with the following metals:
Aluminum: Aluminum is a relatively soft metal and can conform to the shape of complex, intricate molds.
Brass: Hydroforming processes create a clean, seamless finish that works well with decorative brass pieces.
Copper: Hydroforming processes can form a variety of copper tubes to different industry-standard dimensions and custom specifications.
Inconel: Inconel is often used for custom parts in high-temperature environments, such as for jet engines parts and other aerospace components. Hydroforming allows for custom asymmetrical parts.
Stainless Steel: Hydroforming can easily shape stainless steel, because the hydraulic fluid presses against the metal from multiple different directions, forcing it to change form without stressing or cracking.
Specialty Materials:

Hastelloy: Hastelloy is an extremely corrosion-resistant metal alloy that is commonly used in applications with a high degree of chemical exposure. Hydroforming ensures components have a weld-free design that limits opportunities for part failure.
High-Nickel Steel: High-nickel steels are often used in high-pressure applications, such as liquefied gas storage, turbine blades and fasteners, and more. Hydroforming's seamless forming process makes the parts stronger and more reliable.
Waspaloy: This superalloy is strong and hardenable. Hydroforming processes can shape the metal for precision designs and weldless construction for turbines, aerospace applications, and more.
Machines Used for Hydroforming
At Helander, we use state-of-the-art hydroforming equipment in our facility. The three key machines we use for hydroforming processes are:
Clamping cylinder: This component locks the negative molds in place so they don't shift under pressure.
Axis-press cylinders: There are two cylinders, with each one pressing on either side of the tube.
High-pressure hydraulic generator: The machine needs to generate enough force — 400 KPA of fluid pressure, at a minimum — so the hydraulic fluid inside the tube can press it into the mold forms. As soon as the hydraulic fluid is discharged and the pressure lowers, operators can safely remove the newly formed tube.
While the hydroforming process is simple in theory, it requires heavy-duty, extremely precise machinery that can safely generate and handle high pressure levels.
Hydroforming Applications
Tube hydroforming is extremely advantageous, because it allows manufacturers to create precise replications of the same part without needing to weld or join the two halves of the tube. Hydroforming also leaves the part with a high-quality finish that reduces the need for most secondary processes. The parts can be as thin or as thick as the original design demands, and it can have complex joints, threads, and formations.
At Helander, we serve a wide variety of industries with hydroformed tubes and components, including:
Aerospace
Automotive
Cookware
HVAC
Sanitation
Medical
Hydroforming Services From Helander
For precision manufacturing projects, choose hydroforming services from Helander. For over 80 years, we've been providing high-quality manufacturing and metal-forming services to everyone from small businesses to Fortune 500 companies across multiple industries. Contact us today to learn more about our capabilities or to start your order.