Durability in the Most Important Settings
In the world of food processing, manufacturing the highest quality equipment is of paramount importance.  Not only does food need to be kept safe, but the equipment itself must be able to function smoothly even in the most difficult industrial conditions.
Food processing equipment needs to endure high temperatures and resist corrosion in damp environments.  While there are a number of different materials and processes that are commonly used to manufacture this equipment, metal spinning using stainless steel allows for highly durable equipment that meets customers' exact specifications.
The Advantages of Stainless Steel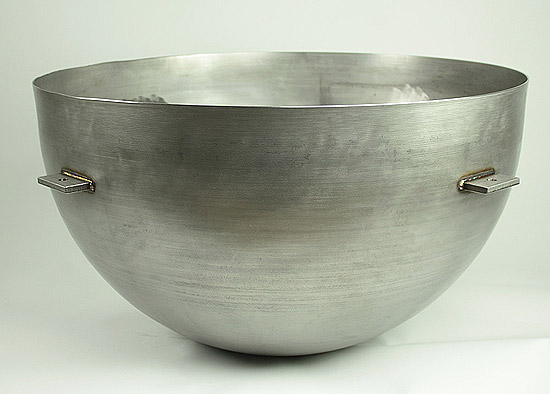 Corrosion-resistant, easy to clean, and recognized worldwide for its adherence to tough quality standards, stainless steel is known for being an excellent material for food processing equipment.
Corrosion-resistant —The material is known for maintaining smooth surfaces even years after manufacture.
Highly Durable — Its excellent longevity comes from unparalleled corrosion resistance, saving money in the long run by reducing maintenance, repair and replacement frequency.
Recyclable—An environmentally friendly metal, stainless steel is not only 100% recyclable, but it can also be easily cleaned. This eliminates the need for harsh, aggressive chemicals that would then be added to wastewater.
Excellent Flavor Protection—Stainless steel is completely non-reactive when it comes into contact with food; it does not take on any odor or flavor of food during manufacturing. This not only ensures the quality of the food, but also makes steel processing equipment easier to clean and re-use multiples times.
The Most Hygienic Metal—When sanitation is of the utmost importance, stainless steel is an excellent choice. The material is easy to clean and does not have any pores, which means that it will never retain dirt or bacteria when cleaned properly.
Meets All Relevant Standards—Parts made from stainless steel meet all applicable legislation and standards, including National Sanitation Foundation (NSF) guidelines and US CFR 21, part 110, subpart C, Sec. 110.40.

Metal Spinning and Hydroforming: A Superior Process
While a number of different processing methods can be used to manufacture commercial food equipment, metal spinning and hydroforming are among the strongest options.
Each method is highly efficient when compared to other processes, such as metal stamping.  Not only do metal spinning and hydroforming reduce scrap and material costs associated with stamping, but they also allow for maximum flexibility in equipment design.
These processes allow procurement professionals to fulfill almost any design specification, from heavy duty industrial cooking kettles to decorative bottles and more.
Helander From Start to Finish
At Helander, we lead the industry in manufacturing the highest quality commercial food equipment. Using a broad range of processes, including hydroforming, metal spinning, and welding, along with a complete array of finishing options, we manufacture every component to be ISO 9001:2008, AS9100 Rev. C certified.
This guarantees the highest quality at every step of the process.  To find out more about how Helander can help you fulfill your most demanding requirements for food processing equipment, please contact us.